Managing eCommerce returns can be a headache for online retailers. If a rise in sales makes eCommerce merchants extremely happy, an increase in product return neutralizes that happiness.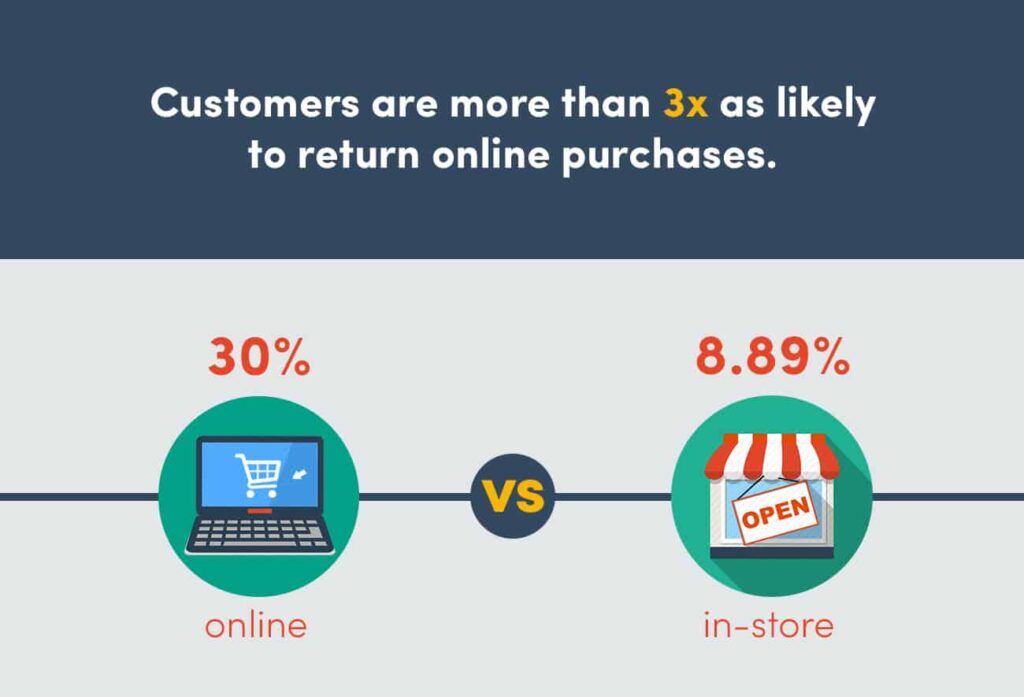 It is to be of no doubt that online stores have higher return rates than offline stores and there are strong reasons to back this fact.
When customers visit a brick-and-mortar store, there is no confusion regarding the product size. There are no possibilities of getting the wrong product. Most importantly, what it looks is what it is, which is not possible during online shopping.
Basically, customers can try out a product in a physical store. They can touch it, hold it, feel it and find out the flaws at that moment, which is not possible in the case of an online store. This is why e-retailers face excessive returns and it becomes quite a difficult task to manage them.
In this article, we will discuss how you can manage eCommerce returns and improve customer satisfaction.
1. Create a flexible & Easy to find Returns Policy
One of the important points in the returns management best practices is to craft your return policies well. Be clear about the terms and conditions. Mention what kind of returns you accept, what should be the condition of the item to get its replacement, what is the time span for returning an item, what is the procedure to raise a return request, etc.
Whatever your return policy may be, it should be clear, easy to read, and easy to find on your website. Whether it's an FAQ section or a clearly laid out web page, you should include prominent links that make your e-commerce return policy easy to find on your web and mobile site.
Having a return policy that's clearly worded and easy to find builds trust with your customers and leaves less room for frustration as they figure out when and how to make returns. This trust can lead to increased sales. Clear expectations in your return policy also means you get fewer people calling your call center about returns, which saves you time and money. A well-written eCommerce return policy helps a user to understand your return procedure better. Also, avoid using any hard language that is difficult for a user to understand.
Product return policy not just helps you handle customer returns efficiently but also encourages users in their purchase decision process.
2. Include clear deadlines in your eCommerce return policy
Even though your e-commerce return policy was an important part of the buying decision, most of your customers didn't expect they would have to return something. Don't make your policy so dense that an advanced degree is required to make sense of it and do give a deadline, so your customers get it done. Don't hide your deadline in the fine print; state it prominently, in bold type in more than one place on your returns page.
A clear e-commerce returns policy that sets expectations for the time period during which customers can return an item allows your customers to understand what's required of them in the returns process. They are less likely to blame you for a return that goes wrong if they know your return deadline in advance.
A clear timeline for returns can also help you predict revenue, since you can book the profit for sales that are older than the return deadline with no fear that you'll have to give a refund.
3. Allow Customers to make a Return Choice
Adding to the list of eCommerce returns management is letting customers decide what they want to do with the product they wish to return. Whether they want to replace the product, raise a full refund or need the product amount in the form of points/store credits, the choice should be left to them.
Providing a return choice is a persuasive tactic to make customers return to your store in the future. For example, if a customer opts for the credits worth the product amount, providing him with that would ensure that the customer is going to come back to your store in the nearby future and make a purchase.
Put simply, it improves customer retention on your website.
4. Automate your Return Process
If you have a large e-commerce store, you will have more product returns. Imagine how difficult it would get if you manually handle product returns. Moreover, it will be very time-consuming.
Automating your eCommerce returns can save you a lot of time and effort. You would not need to handle each and every step on your own. From informing the customer about the placed return request to notifying them about the return status until the process is over, make everything an automatic process. This will decrease the return processing time.
Talk to our experts to see how SkyReturns solution can help you in this process.
5. Speed up your eCommerce returns
Speeding up your return process is a vital point in eCommerce returns best practices. 
Right after a customer places the return request, they expect their money's worth in some form to the earliest. Though it can take a few days at least, you should not make your customers wait for too long. A long delay creates frustration among customers and they would think a few times before placing an order from your store again. Make sure the returns are processed as quickly as possible. It improves customer loyalty.
6. Pay for free return shipping
Returns are one of the biggest pitfalls for e-commerce businesses because the costs can easily add up and hit your bottom line. But free shipping on returns is expected these days. As reported by Web Retailer, 88% of consumers surveyed rate free return shipping as "important" or "very important" to their purchase decisions. So, while not paying for return shipping might save you some cash, it could cost you customers.
If the cost of return shipping is too much for your business, get creative. For example, you could state in your return policy that you'll pay for return shipping on orders over $50. This could encourage your customers to purchase a few extra items to bump themselves over the limit while ensuring that you aren't spending more on return shipping than the value of the items.
7. Re-engage customers & Continuously review and update your e-commerce return policies
Don't consider a return the end of the line with you customer. That customer was interested enough in your business to place an order; there's a good chance you can lure them back. After a return, re-engage with your customer to keep the relationship alive.
If you handled the return right, you left your customer with a warm, fuzzy feeling. That person could become a loyal and profitable customer.
Online retail changes continuously, and your return policy should as well. It's not enough to track your returns; use the data you gather to keep your return policies relevant to your customers and your business. If your returns spike, figure out why, and adjust your strategy accordingly.
You might find returns frustrating and demoralizing, but you should never let your customers see this. Show empathy when a customer expresses frustration, and you can turn their anger into gratitude. Thank your customers for doing their part in completing the returns process.
Your positive attitude and terrific customer service will be a big factor in turning returns into future sales and winning loyal customers.